Alice In Chains to Perform on Glass Floor Atop Seattle's Space Needle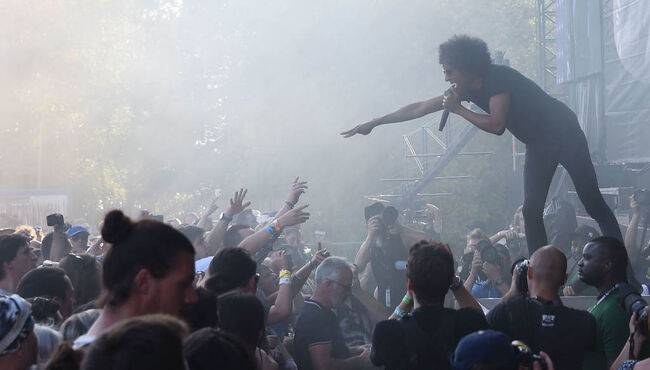 Hopefully none of the members of Alice In Chains get vertigo because that'll make one of the band's upcoming gigs awfully complicated.
On Tuesday, the legendary grunge band is scheduled to become the first band to ever perform on the "The Loupe" atop Seattle's iconic Space Needle.
The Loupe is a revolving glass floor, installed in the Space Needle as part of a $100 million renovation to the city's most recognizable landmark. It's said to be the first attraction of its kind in the world.
"I've visited the Space Needle many times in my life and it's going to be a real honor and a total trip for us to play there," said guitarist Jerry Cantrell in a statement. "We're so proud of this album and to be able to celebrate its release with a performance at one of our town's most iconic landmarks is really special. It sorta reminds me of the time we did the 'Again' video, but instead of being six feet in the air rocking out on a glass floor, we'll be 50 stories high...slight difference."
The Loupe is said to provide 360-degree views of Seattle from one of the city's highest points.
Alice In Chains' sixth studio album, Rainier Fog, is due out Friday, August 24.
Named for one of the mountains that dominates the landscape near the band's home city, Rainier Fog is also the first album in over 20 years that Alice In Chains recorded in the Pacific Northwest.
Cantrell described in a recent interview with Metal Hammer the unease he felt returning to Seattle to record Rainier Fog at the same studio where the band crafted its 1995 self-titled record.
"We were wondering if those ghosts would be there when we rolled in, but a lot of years have passed; we're a totally different unit in a different space, and it never came up," he said."
"Leave it at the door and go to work," Cantrell continued. "It was much more of a good feeling being home, recording in our hometown and reconnecting with where we came from."
For someone like Cantrell, who was firmly entrenched in the grunge movement of the '90s, looking back at that time results in a rush of emotions. He describes the grunge boom as "incredible and terrifying at the same time."
Get more information about Rainier Fog and all of Alice In Chains' tour dates here.
Photo: Getty Images